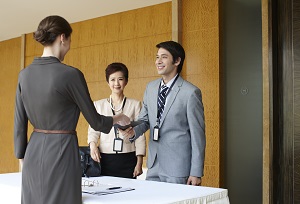 Events & Conferences
Just as the Sheraton Brand is synonymous with "Effortless Travel" so are meetings and special events in our group friendly hotel.  Between Sheraton Niagara Falls and the IACC Certified Conference Center Niagara Falls located adjacent to the hotel planners have nearly 125,000 square feet of flexible spaces to host everything from a small corporate meeting, large conventions, lavish wedding receptions or special social gatherings.  The two facilities work in hand in hand to make your event goals our goals.  "Effortless Events" await you in Niagara Falls, USA.
Room Capacities & Dimensions
Sheraton Niagara Falls has rooms of many shapes and sizes. Please view our room capacities and dimensions table to find the best room for your event or function.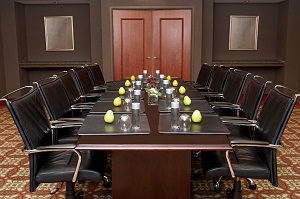 Meetings & Receptions
Sheraton Niagara Falls is the perfect choice for your next meeting venue.  Its cozy 8,671 square feet of flexible banquet space with state-of-the-art technology, attentive service personnel and sophisticated culinary offerings add up to a recipe for achieving the objectives of our meeting planner partners.  Our Royal Boardroom is the ideal hotel meeting space for privacy meets luxury in an intimate corporate meeting environment.  There's a reason our facility is ranked in the top 10 meeting facilities in North America amongst the Sheraton Brand….service, service, service.   Let our Events Managers assist in your next meeting that all future meetings will be measured to.
We have the recipe for successful large meetings and conventions in a destination know throughout the world. Niagara Falls USA premier hospitality providers, American Niagara Hospitality, joint its two hotels and its Conference Center partner to offer nearly 600 guestrooms and 125,000 square feet of flexible function space all in close proximity. Being footsteps from the Falls and connected to the Seneca Niagara Resort & Casino are just a couple more reasons that make the meeting equation add up to success. The right balance of access, affordability, business, pleasure and luxury and most importantly service come together and stand at attention to serve.
Weddings
The perfect wedding reception awaits new bride and grooms in the Honeymoon Capital of the World, Niagara Falls.  Sheraton Niagara Falls is an established Western New York hospitality leader in the wedding reception arena.  It is a one stop facility offering a lavish wedding reception venue, luxury accommodations for your out of town guests, customized menu options that will leave your guests in culinary wonderment.  Our professional Events Managers paired with our banquet service team will leave no detail untouched and you will find them to become more than just event partners but friends.
Group RFP
To have a member of our sales team contact you about your event, please complete the following form.
Business Services
You will never lose contact with the office when you attend a meeting or conference at Sheraton Niagara Falls. High Speed Internet Access is available in each meeting room, and our Business Services Staff are ready to help with your faxing, copying, mail delivery and courier needs.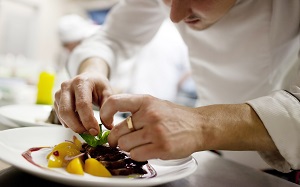 Testimonials
The Sheraton's event team strives to exceed the highest level of guest satisfaction. Have you or a friend hosted an event with us? Please share your experience with us!